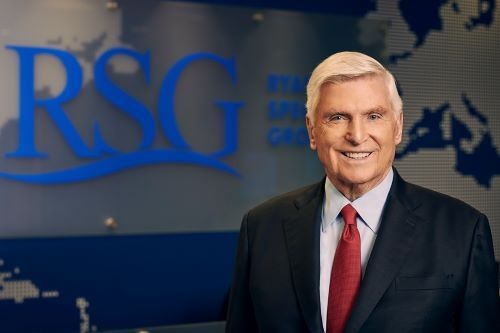 What makes a great leader in insurance? Is it simply the ability to turn a profit by any means necessary, or is it the ability to turn a profit with an engaged and loyal workforce who have the tools and support to make the business thrive? Regardless of your stance, strong leadership is critical in today's challenging insurance marketplace.
In the keynote address at the Insurance Business Leadership Exchange conference in Chicago, global insurance leader Patrick G. Ryan said leadership is about getting people to do what you want them to do, and, more importantly, getting them to do that because they want to do it. He added that "it's much easier for people to follow an idea when they've bought into it and when they feel like they own it."
Ryan is founder, chairman and CEO of Ryan Specialty Group (RSG), an international holding company specializing in wholesale brokerage, insurance underwriting managers and other specialty services to brokers, agents and insurers. Prior to launching RSG in 2010, Ryan founded Aon Corporation and served as its chairman and CEO for 41 years. The stalwart of insurance certainly knows a thing or two about effective leadership.
Read next: Building a multi-billion-dollar book of business
"Something that's been a hallmark for my career of over 50 years is this idea of leading by example, leading from the front, and never really asking somebody to do something that you wouldn't or can't do yourself," Ryan told the audience. "That runs into ethics and morals, so it's never asking somebody to do something that compromises their ethics or their morals. At RSG, we are all in on leading by example or leading by the front. All of our executives are involved in the production of business, the relationship with clients, and the relationship with markets – we think that's essential."
Another thing that effective leaders have to master is the ability to make decisions and stick to them, according to Ryan. Most people reading this article will be able to relate to the feeling of frustration when an idea presented within an organization gets multiple layers of approval, only for someone to change their mind last minute and shoot the whole project down.
"Being decisive and sticking with decisions is really important, and it's something leaders really need to understand," Ryan commented. "It's something you learn as far back as kindergarten. People don't listen to what you say nearly as much as they watch what you do. They watch what you do as a business leader and they watch what you do in your personal life. If people respect the leader as a person and as a business leader, things are going to work a lot better."
Read more: How to source the best insurance talent in today's competitive market
Business leaders have absolutely "no right to get bored," Ryan stressed. Only those who are passionate about what they do, and those who inject that passion into the workplace, will succeed as leaders. The workforce are looking to leaders for guidance around commitment and passion, and so it's important for leaders to set a good example.
"Leaders must have vision. They must have the ability to communicate what that vision is and why they're taking the business in a certain direction," Ryan added. "One of the key questions in today's world, where people are so highly educated, is not 'what', it's 'why'. People want to know why, and, if leaders can explain that, the people will follow."