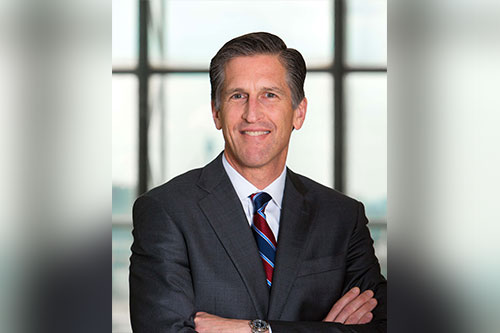 Another third of the $4.3 billion will be paid out for property insurance since, noted Watkins, "There are Lloyd's policies that have coverage for pandemics … across the industry, there are insurance companies who've included that coverage and others who haven't." The final third, he continued, is in lines of business like trade credit that are significantly exposed because of the inability of businesses to pay their invoices.
The impact of the coronavirus pay-outs on Lloyd's isn't surprising considering its presence in the property insurance marketplace, as well as the fact that Lloyd's writes around 60 lines of business in the US and Canada, which makes it "widely exposed across the [Americas], not just to coronavirus but any kind of claim that would be covered across most industries, most classes of business and most geographies," said Watkins.
The impact of the pandemic on the broader insurance industry meanwhile is likely to be huge, with Lloyd's chief John Neal suggesting that COVID-19 will probably be the most expensive event in history for the insurance industry. The loss of asset value is a major component of the scale of this impact and a type of fallout that is unique to this event, explained Watkins, since other catastrophes are usually more geographically focused. Between that loss and the anticipated pay-out of claims, Lloyd's is so far predicting a $200 billion loss for the insurance industry from COVID-19.
"If this continues and comes back in a second wave, those numbers are likely to be impacted further," added Watkins.
Meanwhile, outside of its payouts on claims, Lloyd's has also revealed that it will contribute nearly $20 million to charities and will also use a range of market experts and resources, including Lloyd's Lab, to focus on products that support the response to COVID-19. Already, the marketplace is insuring over 100 clinical trials for COVID-19 treatments and vaccinations.
"It's very encouraging to me sitting here in North America that Lloyd's is not only going to be providing charitable contributions to organizations in the coming weeks, but as importantly is stepping up and investing in an industry response going forward," said Watkins.
The Lloyd's Lab in particular has continued to do important work over recent months despite the shutdowns. During this time, Lloyd's Lab participants were able to work on innovative projects virtually, though, once it's possible, they will be back on-site.
"Innovation, while it can be done virtually and we've proven that, there's a huge advantage to be in the same room with people talking through different ideas," said Watkins, adding that the next cohort taking part in the Lloyd's Lab will be focused primarily on COVID-19 responses.
Overall, much like the rest of the insurance industry, the global insurance marketplace has kept on trucking through the pandemic.
"Much of the industry hasn't missed a beat as far as getting business written, renewals done, and valid claims paid," said Watkins. "Despite the tragedy that so much of the world is facing, the industry is very resilient – that's what we preach as our reason for being and we're actually walking that walk pretty well right now."