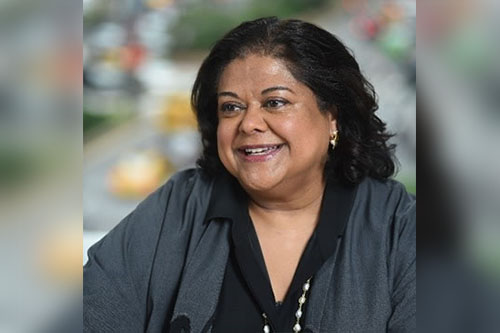 After three decades in the insurance industry, Ranjini Pillay (pictured) knows a thing or two about what it takes to rise through the ranks as a woman in insurance. It takes strength, expertise, tenacity, relationships … and "a personal cheerleading squad" also helps. 
Pillay is a senior managing director at Teneo Capital Advisory, the investment banking division of Teneo Holdings. She leads Teneo Cobbs Allen, providing structured insurance products designed to address a wide spectrum of the financial, strategic, and operational challenges facing companies and organizations around the world.
Prior to joining Teneo, Pillay spent 29 years at AIG, where her most recent role was head of alternative risk and chief underwriting officer for AIG's multinational and alternative risk group, a division of AIG. It's a pretty impressive résumé, built around successes that Pillay chooses to share with her peers, teammates, mentors, sponsors, and cheerleaders – all of whom she claims have helped her get where she is today.
"In my opinion, success is not an individual thing. It's always a team working well together," she mused. "Women in insurance need to focus on their networks, and they need to support and promote each other. I don't think we always do a great job at that because we're all striving so hard to make our mark as individuals that we don't necessarily link arm-in-arm and march forward together. I believe we need to be more supportive of each other, and we need to become champions of each other."
Pillay will be a panellist at Insurance Business's upcoming Women in Insurance New York conference on September 17. She'll join a crew of top industry executives who will share advice for navigating self-doubt as a rising leader and the value in supporting others through mentorship and sponsorship. As someone who says her success is shared with those who've touched her career in some way, Pillay is a strong advocate for both mentorship and sponsorship.
She said: "I don't believe in people having just one mentor. Throughout my career, I've cultivated a wide-range of mentors – both from within the industry and from external, related industries – because it helps you to see different perspectives. I like to have at least one mentor who looks and sounds like me because it gives me a bit of a checkpoint, but I also want to be able to talk to people who have had different experiences and different backgrounds, who can give me some fresh insight.
"Moving forwards, I think we need to focus more on developing sponsorship programs. A sponsor is more than a mentor. It's somebody who will champion you at the senior leadership table, and help you move forward in your career. Some companies, certainly in my experience, have used the words mentorship and sponsorship interchangeably, causing some confusion around what those roles are. I think we need to make that clear.
"I also believe that company-sponsored sponsorship programs are probably more successful, or can be more successful than company-sponsored mentors. The reason I say that is because mentors are a very personal and subjective choice. You have to be able to click with that person to be able to talk more generically about your faults and the things that you want to improve and work on. Meanwhile, a sponsor is somebody who takes the challenge of moving you within the corporation further up the line. I think if companies put more focus on sponsorship programs, they would be much more successful than company-mandated mentorship programs."
Ranjini Pillay will be sharing insights on this topic and more at the upcoming Women in Insurance New York on September 17, also road showing in Chicago on September 10, San Francisco on October 03 and London UK on October 10. See further information or book now.