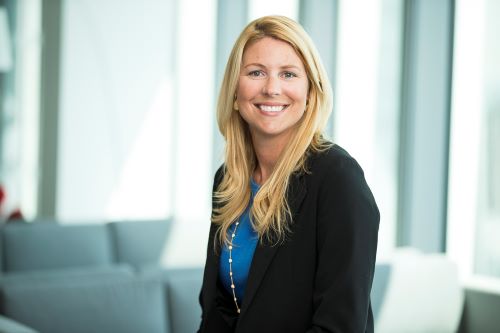 Something has shifted at the core of the insurance industry. In the not so distant past, insurance was all about the transaction. Carriers were viewed primarily as capital providers who took positions in risk for an expected return, and brokers were the conduits for those transactions. Today, the industry is shifting away from its formulaic, transactional past towards more of a value-oriented and service-driven, customer-centric model.
Insurance, at the end of the day, is and always will be a relationship business. The effort that insurance companies put into those relationships will determine how successful those companies are as the industry evolves and client expectations transform.
One insurance company that has identified this shift and elevated it to a prevalent part of its global brand is Allied World. In 2018, the global insurance and reinsurance solutions provider appointed its first ever head of client engagement and global accounts. Faye Cook (pictured) was tapped for the role, and her objectives are clear: to manage relationships with Allied World's global account insureds and their trading partners – and to do that in a way that adds the most value to all stakeholders.
"Strong client relationships are an important brand pillar for us at Allied World," said Cook. "The creation of my role was the company's formal way of saying: 'This is where we stand with clients. We want to build long-term holistic partnerships with them, and ensure that our lines of business around the world are communicating and coordinating in order to foster that relationship. We don't just want to be seen as capital; we want to offer value and trust."
This notion of value and service-oriented client engagement is not limited to the insurance industry. Rather, it seems to be a common trope across all industry verticals. There's been a concentrated drive towards providing customers the best value for the money they're spending. As Cook pointed out: "No-one wants to be a transaction."
When it comes to managing global accounts, which is part of Cook's remit at Allied World, she believes insureds and their brokers appreciate an understanding of their global spread of business with the company. A US-headquartered multinational firm may purchase multiple coverages from Allied World in Bermuda, Europe or Asia, and in today's connected society, there's no reason for these transactions to be only understood in isolated, geographic business siloes.
The client engagement and global accounts team at Allied World is breaking down those siloes, not literally from a business perspective, but rather from a communication perspective. Externally they're helping clients understand what Allied World does for them around the world, and internally they're helping their underwriters understand everything Allied World does for a client.
"In the large account space, insureds might use multiple broker partners and providers for their various lines of business, and work with several underwriters and insurance companies all over the world," Cook told Insurance Business. "It's complex. Roles like mine help to bring everything together as respects to Allied World for the client, their broker partners and serves as an internal advocate for their needs.
"We've found that clients want a relationship, especially when they're larger customers with more complex risks. We are not all things to all people – there might be a risk that we aren't able to handle, but if we have that transparent relationship with our clients, we can at least talk about it and try to figure out an alternative solution."
The relationship aspect of the insurance transaction has traditionally been dominated, or at least claimed, by brokers and agents. They're the client's chosen advisors and they're the ones who can share expertise on the different markets and what their risk appetites are. So, what does Allied World's client engagement push mean for its broker force?
"Our broker partners have met this idea with open arms, and think it's a great for our mutual clients. We are working with them to garner more meaningful facetime with our insureds to help foster a partnership that benefits everyone," Cook said. "If there's a claim, for example, it's much better for all parties if the conversation starts from a warm relationship versus a cold transaction."