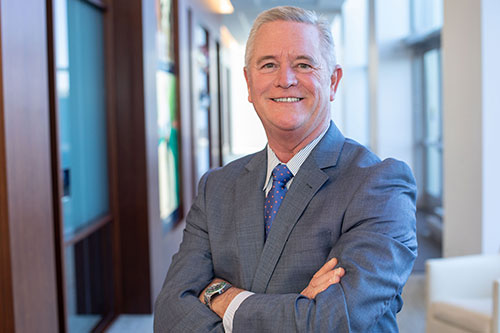 "I'm very proud of all the collaboration within our organization to make sure that we deliver the best talent to each individual account," he said.
What makes RPS unique, according to Cavaness, is the broad-based group of insurance carriers it works with. The MGA has relationships with more than 35 different companies in order to ensure retail agents have the best options no matter where they are in the country.
Since the coronavirus pandemic sent shockwaves through the industry, RPS has been able to transition smoothly to working completely remotely. The team prioritized supporting retail agents with constant, state-specific updates. With some regions limiting cancelations for non-payment, or asking for more relaxed terms on policies, it chose to communicate specifically with retailers based on location.
As for the full impact of COVID-19 on the market, Cavaness said US small businesses have seen a dramatic impact, especially in hospitality, retail, and auto sales. With some restaurants introducing new delivery or curbside pick-up services, businesses are turning to advisors to understand new and evolving exposures. Another example he points to is when a business is allowed to reopen under the condition that employees wear personal protective equipment (PPE) – insureds need to know what kind of liability exists if an employee doesn't follow these rules.
"We want to be available all the time to communicate current conditions, new exposures and how best they can be covered," said Cavaness.
As the landscape continues to change in the standard market, he says there's a natural shift for some classes into excess and surplus (E&S).
"Surplus lines are always at the forefront in providing coverages that weren't needed before," he said. "I think that there's a lot of opportunity for E&S to fill those gaps. We're certainly looking at developing exposures that may not typically be covered today but will need a solution in the near future."
As the world transitions to operating in a new environment, the company wants to continue to serve customers to the same high standards – but in different ways. This is being achieved with lots of videos, web conferencing and producing and distributing new marketing information. With the dramatically changing rate environment and insurance landscape, Cavaness says RPS is keeping customers abreast as they not only face difficult economic times but could see some dramatic changes to rates and terms on some of their policies.
In addition, the company is increasingly using data analytics, AI and robotics. Customers can rate, quote, bind and issue a policy within minutes, on a small subset of questions.
"Our goal is to be more omni-channel in the way people work with us," he said. "If they want to pick up the phone or send us an email, we can still provide a very high touch customer experience. If someone needs a quick quote or order, that digital experience from RPS is available as well. Giving the customer the option on how they want to interact with us is of high need today, and it will be of even greater need in the future."